I believe many are very excited about the new launch that is coming up in the town of Ang Mo Kio. We are all waiting for the latest property details update, architects briefing and showflat tour.
AMO Residence has just released its units distribution in June 2022. Although it is said to be tentative and subject to change, we can see that the AMO units distribution and mix is quite suitable for small to big family. With no 1 bedder, all units starts from 2 bedroom, with the smallest size of 614 sqft or 57 sqm. The biggest 2 bedroom at AMO is 678 sqft or 63 sqm. Bigger 2 bedroom, which is called the 2 bedroom premium, is at the size of 743 sqft / 69 sqm. 3 bedroom starts from the size of 958 sqft / 89 sqm. If with 3 + Study, the unit size can go up to 1,367 sqft / 127 sqm (3 bedroom premium + Study) And that, is even bigger than the 4 bedroom, which is 1,292 / 120 sqm! No wonder some units that is 3 + study could be rented out as a 4 bedder. Ultimately, the 5 bedroom size is just 183 sqft bigger at 1,475 sqft / 137 sqm. If you are looking for a larger space, you can consider AMO Residence's penthouse. You will be looking at a space of between 2,293 sqft / 213 sqm to 2497 sqft / 232 sqm.  That is big space in today's condo development. It is not exactly big if you compare to those older condominium project but its what is in the trend for built-in sizes these days. If you visit those city area condo new launch, you can expect these CCR condo projects to be much smaller and higher in price.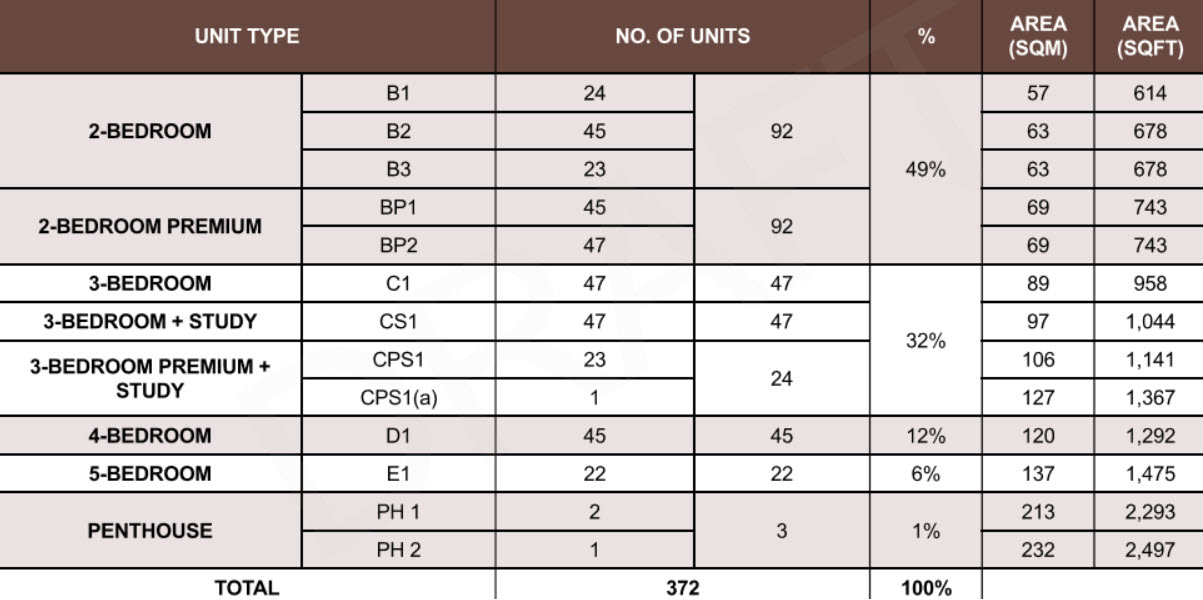 Is it worth investing? Many would wonder the price of AMO Residence after the news from local newspaper that says the high bid for land price bought from the developer. We are still speculating over the final decision of the price. No one will know until the 1st day of unit sale, which is usually by balloting. Price are expected to be near $2,000 psf. Some says maybe around $1,800 to $1,900 psf. It all depend also on the floor level as the higher it gets, the higher will be the psf. Some condo development has a lower increase per floor but its hard to say.

This property development is obviously going to be build more for families. With smaller units starting from 2 bedroom, you can expect small to bigger family take up the units in this condo development. The surrounding is nice and green with Bishan / Ang Mo Kio park just opposite. Landed enclave behind which will provide great unblock view to the residence in AMO Residence. The new Mayflower MRT will be another good reason for people who wants convenience. Its only a mere 3-5 mins walk to the MRT and with bus stop just out at the many road of Ang Mo Kio avenue 1. You will not be without good transportation. If you drive, you can hit the Upper Thomson that is connected near AMO Residence. From Upper Thomson road, you can drive to CTE or SLE easily. If you travel the other way of Ang Mo Kio Avenue 1, you will reach CTE or turn left to AMK Hub, or right to Bishan Junction 8. How convenient to go mall shopping or for food.

Would you like to find out more or visit the show suite? If yes, you can contact the sale department by registering your interest or book for your viewing appointment. All visits are by appointment only. You can call +65 9694-2796 or submit your interest by filling the form below.

.